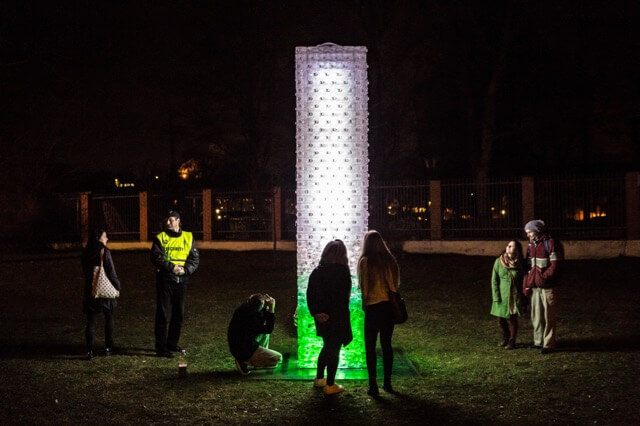 Our installation PETMAT designed by Simon Kern was chosen for the Light festival in Pilsen called BLIK BLIK. The festival was running for two days from 17th to 18th of March 2017 in the centre of Pilsen. Visitors were led from the main square to Pilsener close surroundings, parks and the brewery. 15 installation were attracting attention of pedestrians. There were more than 40.000 visitors at the event. PETOTEM was made really in cooperation of the author of the design, PETMAT guys and DEPO2015. Material "bottle" support was brought by Mattoni. The mast was changing light – there was a wave of light running from the base to the sky.
Montage took one day…
This is the electric installation that made it shine…
The construction of the whole piece of art took two months the lab. …
Drawings and models of the real thing had to be prepared. Simon Kern was using SketchUp for the PET(b)rick layout.
Model of PETOTEM was constructed in November 2016 already.
Design and sketches  of PETOTEM, originally meant to be installed in the city-centre of Prague.